Grand Oaks Dental Blog
Posts for tag: dental injuries
By Grand Oaks Dental
December 30, 2016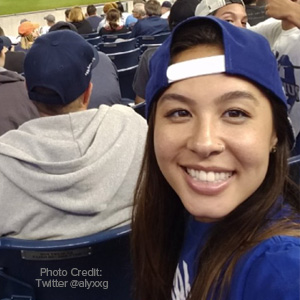 When your favorite baseball team wins, it's hard not to get excited — especially if you're right there in the stadium. It's even better when a player tosses the ball to fans. But sometimes, in the heat of the moment, things can go awry.
That's what happened during a recent game at New York's Yankee Stadium. After catching the ball that ended the game in an 8-2 Dodgers win, Los Angeles outfielder Yasiel Puig tossed it into a cheering crowd of supporters. "I saw it coming at me and I remember thinking, 'I don't have a glove to catch this ball,'" Dodgers fan Alyssa Gerharter told the New York Daily News. "I felt it hit me and I could feel immediately with my tongue there's a hole. And I looked down at my hand and saw there's a tooth in my hand."
Ouch. Just like that, one fan's dream became… a not-so-good dream. But fortunately for the 25-year-old software engineer, things went uphill from there. Ushers quickly escorted her into a first-aid room at the stadium. She was then rushed to a nearby hospital, where the upper front tooth was re-inserted into her jaw. After a follow-up appointment at her dentist's office the next day, Gerharter said she remains hopeful the re-inserted tooth will fuse with the bone, and won't require replacement.
We hope so too. And in fact, she has as good a chance of a successful outcome as anyone, because she did everything right. If you're not sure what to do about a knocked-out tooth, here are the basics:
locate the tooth, handle it carefully (don't touch the root surface), and if possible gently clean it with water
try to open the person's mouth and find the place where the tooth came from
carefully re-insert the tooth in its socket if possible, making sure it is facing the right way
hold the tooth in place with a soft cloth as you rush to the dental office or the nearest urgent care facility
if it can't be replaced in its socket, place the tooth in a special preservative solution or milk, or have the person hold it between the cheek and gum (making sure they won't swallow it) — and then seek immediate care at the dental office
follow up at the dental office as recommended
In general, the quicker you perform these steps, the more likely it is that the tooth can be preserved. How quick is quick? The best outcomes are expected when re-implantation occurs in no more than five minutes. So if you're in this situation, don't wait: get (or give) appropriate first aid right away — it just might save a tooth!
If you would like more information about what to do in a dental emergency, contact us or schedule an appointment for a consultation. You can learn more the Dear Doctor articles "Knocked Out Tooth," and "The Field-Side Guide to Dental Injuries."
By Grand Oaks Dental
March 18, 2014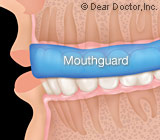 Whether you are a serious or "weekend" athlete, you know the importance of protecting yourself against injury. While looking after your joints, ligaments and bones may garner most of your attention, you shouldn't neglect looking after your teeth and mouth as well. In fact, there are more than 600,000 emergency room visits each year for sports-related dental injuries. A knocked out tooth could eventually cost you $10,000 to $20,000 in dental treatment during your lifetime.
The best protection is really quite simple — wear a properly-fitted athletic mouthguard. Researchers estimate that mouthguards may prevent more than 200,000 dental injuries annually. Be aware, though — not all mouthguards are alike or provide the same level of protection.
Mouthguards generally fall into three types. Stock mouthguards are the least expensive of the three, and also the least effective at protection. They come in limited sizes and can't be customized to the wearer. "Bite and Boil" mouthguards are made of thermoplastic that becomes pliable when heated (as when boiled in water). In this state the mouthguard can be pressed into the wearer's teeth, which hardens to that fit once the thermoplastic cools. However, the fit isn't exact and they don't always cover the back teeth. Also during the heat of competition, the mouthguard softens and loses some of its stability and protection.
While more expensive than the other two types, a custom-fitted mouthguard made by a dentist provides the best level of protection. Made of a tear-resistant material, they are more comfortable to wear than the other types and cover more of the interior of the wearer's mouth.
A properly fitted and worn mouthguard protects the mouth and jaw area in a number of ways. It cushions the soft tissue of the lips and gums from cuts and abrasions caused by contact with sharp teeth surfaces after an impact. It absorbs and distributes forces generated in an impact that can cause tooth loss or even jaw fracture, and also cushions the jaw joint (TMJ) to reduce the likelihood of dislocation or other trauma.
A custom-fitted mouthguard can cost hundreds of dollars, but that price is relatively small compared with the physical, emotional and financial price you'll pay for an injury. This investment in your oral health is well worth it.
If you would like more information on the use of athletic mouthguards, contact us or schedule an appointment for a consultation. You can also learn more about this topic by reading the Dear Doctor magazine article "Athletic Mouthguards."