Grand Oaks Dental Blog
Posts for: April, 2014
By Grand Oaks Dental
April 17, 2014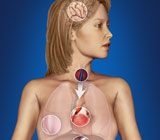 A substantial amount of research has recently pointed up the connection between oral health and systemic (whole-body) health. But recently, one study went a step further: It seems to show that having certain dental-health issues in middle age — for example, tooth loss and gum disease — could signal a deterioration in cognitive function.
Study author Gary Slade, a professor at the University of North Carolina at Chapel Hill, summed it up: "We were interested to see if people with poor dental health had relatively poorer cognitive function, which is a technical term for how well people do with memory and with managing words and numbers," he said in an interview with U.S. News and World Report. "What we found was that for every extra tooth that a person had lost or had removed, cognitive function went down a bit. The same was true [for] patients with severe gum disease."
Does this mean that losing teeth is a little like losing brain cells? Not really, because it isn't clear which condition occurred first… or even if one caused the other. For example, it could be that a poor diet is responsible for both poor dental health and a decline in cognitive ability; on the other hand, there could be a genetic link between both conditions. Or, it could simply mean that people with cognitive difficulties don't take good care of their teeth.
Still, the association is intriguing — especially because it echoes some previous studies, which indicate that systemic inflammation could be a major cause of both problems. What's the oral-systemic connection? No one is exactly sure yet, but research suggests a relationship between periodontal disease and other diseases such as heart disease, stroke and diabetes. The common link may be bacteria: The same microorganisms that cause problems in the mouth might be able to spread through the body, producing a low-grade inflammation — one that's waiting for the right conditions to burst into fire.
So, should you rush out and grab everything off the drugstore's oral health products shelf? Well, we wouldn't necessarily go that far… but here's a more sensible suggestion: Take good care of your teeth and gums. Both tooth decay and periodontal disease can cause a number of problems with your health — yet both can be treated effectively… and they're largely preventable!
If you haven't visited our office in a while, why not come in for an exam? When you do, ask us what's the best way to keep your smile looking great and feeling clean and healthy. Our goal is to help you maintain proper oral hygiene — for life. If you would like more information about oral health and systemic diseases, call our office for a consultation. You can learn more in the Dear Doctor magazine article "The Link Between Heart & Gum Diseases."
By Grand Oaks Dental
April 02, 2014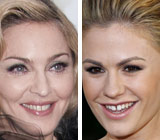 One's a singer who made her name playing New York clubs in the 1980's before catapulting to international pop stardom; the other's an actress from New Zealand who, in 1994, at the age of 11, became the second-youngest person ever to win an Academy Award. Both remain at the top of the A-list today. What other feature do Madonna and Anna Paquin have in common?
You guessed it — it's their teeth. Both have a small but noticeable gap between their two front teeth, known as a diastema. This condition is relatively common, and it's normally easy to treat — if that's something you'd like to do. But wait a moment… In certain African countries, this kind of smile is considered a sign of fertility; in France, they call it "dents du bonheur" (lucky teeth); some other cultures consider the gap a predictor of future wealth. So if you've already made this look work for you, there's no need to change it — even if you might need other cosmetic dental work.
The "perfectly imperfect" smile has become an increasingly popular option for people having veneers, cosmetic bonding, or even dental implants. Some trend-watchers have even noted a pushback against the ideal of a completely even, flawless, Hollywood-white smile. Does that create a problem at the dentist's office?
Absolutely not! We call the process of figuring out how your teeth should look "smile design" — and it's as much an art as a science. When we're just beginning to design your smile, we look at a number of features — including the size, shape, color and alignment of your teeth, the position of your lips, the amount of gums exposed, and the relationship between your smile and your other facial features. We're also listening carefully to you: what you like and don't like about your smile, how you think it could be improved… and what should stay just the way it is.
Of course, before doing any cosmetic work, we will always perform a complete dental exam to detect any underlying condition and determine what treatments are best. Then, we will work with you to help you get the smile you've always wanted. Not sure exactly how it will look when it's all done? Ask us for a preview — from computer-generated pictures to actual 3-D models, we can show you how your new smile will enhance your appearance.
So if your smile needs a little help to look its best — but you still want it to be uniquely yours — maybe now is the time to come in and see us. If you would like more information on smile design, please contact us or schedule an appointment for a consultation. You can learn more in the Dear Doctor articles "The Impact of a Smile Makeover" and "Beautiful Smiles by Design."